Structure and data sources
Due to a relatively complicated system of archival records in each archives, the source databases are also structured in the same hierarchical way.
The basic building-blocks of each archives are the archive files (i.e. archival fonds and collections). Within this Digital Archives application we use term fonds, for simplification. Each one fond contains archival materials created by one originator. Not all archival materials are accessible. Their accessibility is determined by relevant legislation, as well as status of processing.
What are the accessible archival materials?
Archival materials are available for public study only if it's allowed by their physical condition and status of processing. As "processed" are considered those archival materials, which are equipped at least with provisional inventory list or handling list. A higher degree of processing is called inventorying (stocktaking). As "inventoried" are considered those archival materials, which are equipped with so-called partial inventory registers, full inventory registers or associated registers, catalog, index, thematic catalog, list of documents or thematic index. All of the above listed types of inventories, catalogs, etc. are commonly called archival finding aids. In case of large archival fonds it is quite common, that archival materials are accessible through several volumes, or multiple types of finding aids.
What are the inaccessible archival materials?
Archival materials which are not equipped with any of these finding aids are understood as unprocessed and in general terms as inaccessible. Access for a research purposes is possible under individual permission of the archives, where these materials are permanently stored.
Simple database of fonds and finding aids is a source of very general information and so to achieve the best clarity of results, this is database disabled in default settings (manual switch-on is possible).
Finding aids contain more detailed information on the archival document or a group of documents. This information is defined as inventory record (description unit). One inventory record within the Digital Archives system is a basic description unit. It is a source of detailed information. On a resembling level as inventory records (source of detailed information) stand also records from so-called virtual databases. These databases are virtually divided according to type of records and provide searching options to get more detailed information across archival fonds and finding aids. These "live" databases are constantly added and updated.

Relation between inventory records from finding aids and records from virtual databases
A virtual record can either expand the information of inventory record or vice versa "make visible" information about archival material which by now wasn't published in any finding aid. For example, an inventory record of a medieval charter with seal provides only a basic information (description, dating). But corresponding entry from the virtual database "Listiny-Charters" further magnifies this information by connecting it to database "Pečetě-Seals". Ideally, it is also connected to digital reproductions of documents and seals. The second example is a municipal chronicle, which for some reason is not processed in the inventory record (in finding aid), but it is described in the virtual database "Kroniky-Chronicles". Researcher in this way obtains information that wouldn't be normally available in a finding aid. Again, ideally with attached reproduction of chronicle.
Virtual the database library is disconnected from sources of searching (manual switch-on is possible) as it contains no archival records.
Scheme of data structure DIGITAL ARCHIVES: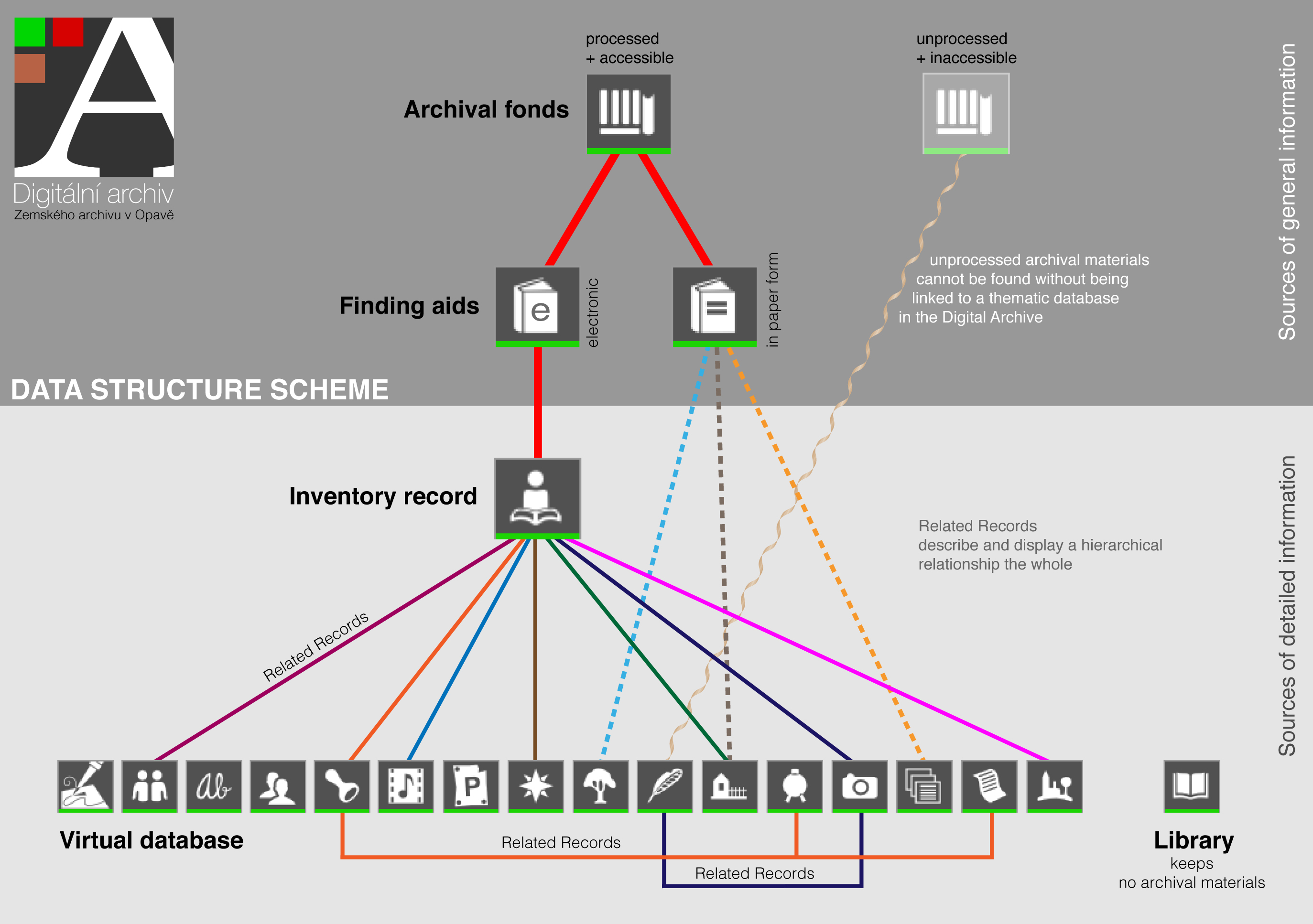 LIST OF VIRTUAL DATABASES:
Photographic (visual) documents – records of classic "paper" photographs, negatives and slides. In terms of the appropriateness of descriptive fields, there are in this database entered also postcards, although technically they are not a photographic document, but a print. In certain cases you can find there also other visual materials e.g. graphic images, drawings and prints.
Card indexes - this database consists primarily of card indexes designated for a population registers or censuses.
Chronicles – records of chronicles and commemorative books of various types - municipal, civil, parish, association's, etc.
Charters – records of charters and instruments.
Maps and plans – records of maps, plans and technical documentation.
Parish registers – church and civil records.
Seals – records of seals on charters (letters), collection of seal copies.
Seal matrices – records of seal matrices.
Land records - books were meant for keeping data about holding and changes in land and real estate possession, in towns then about townhouses.
Associations – records of public associations and clubs, their writings, cadastre, database nowadays led only by the Regional Archives in Opava.
Views – records of views, perspectives and panoramas until 1850. Database is going to be spread to years after 1850.
Video/Audio – Records of audiovisual (movies) or audio documents.
up